I thought I'd cover some 2017 info before the third month of 2018 starts... :)
First off, one sock! I won this yarn in a giveaway and thought it was a whole skein, but didn't think to weigh it before knitting. Turns out it was a half skein. I'm hoping to make a fraternal twin for this because I really like this sock pattern:
Garden Gate
.
A group of Ravelers knit squares for a blanket for Elena Nodel last spring. Sadly, the blanket wasn't finished until after Elena passed, but it was given to her husband and daughter. This was my square.
The motifs are snowflakes to represent my
Midnight Fog
hat that Elena gave me yarn support for. I still have quite a bit of yarn leftover from both projects she sponsored. I treasure it so much and look forward to knitting with it. I did not know Elena very well, but she touched my heart in a special way and I still think of her every so often.
Also last spring, I posted some WIP pictures of a top I was making for Shannon Cook's annual tops, tees, and tanks KAL. I never blocked it and had decided to frog it eventually when I randomly put it on this afternoon, snapped a few selfies, and haven't taken it off yet. I think it might just stay an FO.
A hat made from my Cubs sweater leftovers and inspired by the greatest bromance in history. Kris Bryant + Anthony Rizzo = Bryzzo (They're Cubs baseball players. :) ) I got to wear the hat and sweater to a game last May!!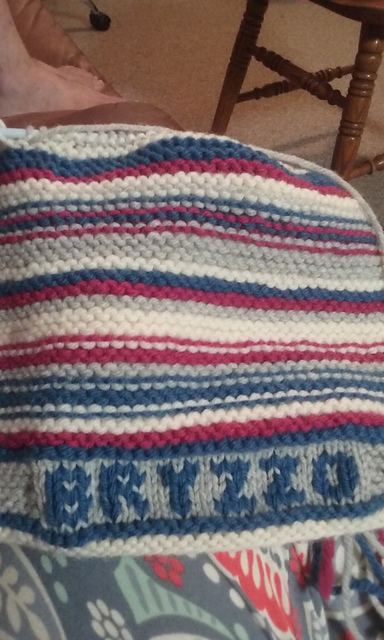 I finished my little blue cabled shawl too, but I haven't blocked it and no pictures either. Now it's keeping company with the dark green shawl I knit in the fall of 2016 and never blocked or photographed. #procrastinatorforlife
The last FO is a pair of fingerless mitts for one of my friends. She's a writer and she loves purple. And mitts. She sent me this fun action shot.
I thought I'd also share my knitting-related Christmas gifts. :D Some Knit Picks Wonderfluff (Alpaca! <3), Sparkles the Knitting Unicorn mug, and a Gleener and fingering yarn from
Tanis Fiber Arts
!!